Our theme this month is a Day in the Life of a Homeschooler and our writing team is sharing what their daily routines look like. We thought it would be fun to open up this question to our readers as well!
So what does your typical day look like?
Even when things don't go as planned, learning happens all the time. Show us your best laid plans, or even your terrible-horrible-really-bad days, so we can cheer and/or commiserate with you.
Please include a direct link to a day-in-the-life post on your blog. If you don't blog, share with us in the comments or on Facebook.
Now for a few guidelines:

Please direct your link to a certain post NOT your home page.
These can be OLDER posts. We are okay with that – we want to bring new readers to your blog!
We will be pinning your posts to our new Pinterest board, too!
Follow The Homeschool Post's board A Day in the Life of a Homeschooler on Pinterest.
If you have ANY questions, please feel free to ask!
Grab a button to display on your blog by copying the code below: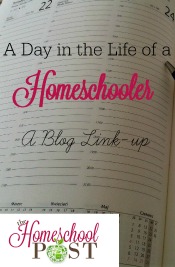 Happy Homeschooling,
This link-up is sponsored by Lamp Post Homeschool.