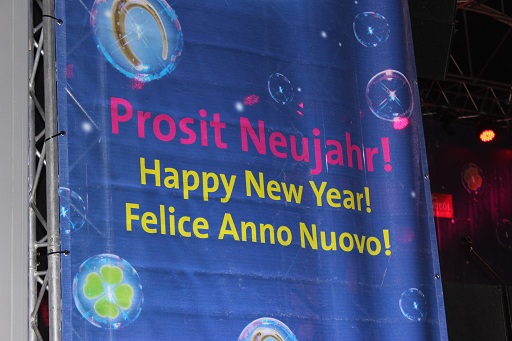 New Year's Eve is "amateur night".
After all the partying, the alcohol, and the gluttony of Thanksgiving and Christmas….who could possibly have any enthusiasm for celebrating New Year's Eve?
Amateurs!
These are the juveniles that either can't handle their alcohol OR who stand in Times Square all night when it's 10 degrees WITHOUT any alcohol!
Now who wants to hang out with these people? Definitely not my wife and I. We stay in – and have for many years now. When we had a TV I would DVR the footage of the Times Square ball drop and watch it, unceremoniously, a month or so later.
But this year was going to be different.
We were in Vienna, Austria! Staying at the Ritz Carlton!
This year our hopes were up for a very different experience.
We rested up in the afternoon and walked to the public square by Saint Stephen's Cathedral around 10pm. It was jam-packed with people. There was an opera playing on the stage, stalls selling "bier" and mulled wine, occasional fireworks igniting underfoot, etc.
But then the stage was taken over by the worst, 80s cruise ship band we ever heard around 11pm. I mean it was really bad and hard to believe that was what Vienna's budget could afford on the grand stage for all those people. But the Austrians (laced with "bier"?) were digging it – high-fiving and hugging each other, dancing, hooting and hollering, etc.
We could only last until 11:20pm before heading back to the hotel. We tried. We really did but our hopes were dashed and old prejudices confirmed yet again.
There's apparently no translation to German!
My wife and I both feel the same way about New Year's Resolutions. They represent "amateur hour" for people who don't have any well-defined goals and ambitions. I mean, honestly, for 95% of people, if not more, they are a joke. The fact that people only stop to articulate goals once per year….and then unapologetically break them within weeks is pathetic.
Homeschooling Goals
So what does this have to do with homeschooling?
Well,….EVERYTHING!
As home educators we are striving to do the very opposite of "school". We want to unlock the full potential of our children, in every possible way.
So we are looking for the ultimate, proven formulas for success and achievement.
Where might they be found?
Well I submit they are in the "self-help" and "personal coaching" industries. They can be found reading Tony Robbins, Napoleon Hill, Steve Chandler, Brendan Burchard, Tim Ferriss, et al.
These are the superstars that are so good at motivating others and generating results, that they can command millions of dollars from the most successful people on the planet.
And guess what…
Every single one of these gurus has their clients articulating and working relentlessly toward clear GOALS….365 days a year.
You know how disparagingly we, as homeschool parents, look at "school parents" who are excited when their kids read a single unassigned book or when they take their kids to 2 museums per year?
Well that's probably on par with how the self-help gurus see the masses out there with their once-per-year, soon-to-be-broken New Year's Resolutions.
It's great to have fun craft ideas, quality workbooks, and great reading lists mined from the cornucopia of homeschooling resources out there…
But if they aren't scheduled or hemmed in by a deadline….they just might never get done!
And beyond a short term checklist, if you truly want to unlock your kids' full potential, I would encourage you to work with and toward intermediate and longer term goals.
In other words, not just "an hour of math per day" but also "6th grade Khan Academy math done by March 1st". Not just "I want to someday publish a children's book on Amazon" but rather "I'm going to publish my book on June 1st". Et cetera.
Yes, I know. Goals can change. Life's distractions abound.
But I promise you, many magical things will happen once you start incorporating goals into your life and into your homeschool on a permanent year-round basis.