I received this product for free. I am being compensated for my time to use the product and write this review. All opinions are my own and I was not required to provide a positive review.~Lisa
My little first grader can't read. In fact, she has only a slight understanding of her alphabet. Not that I haven't tried, she just has absolutely no interest in reading. Maybe it's because her big sisters read everything for her, or maybe she's just a late bloomer in the reading department. I don't push it. One of her older sister's was the same way and she reads just fine now. This is one of the reasons I love homeschooling.
When I was presented with the opportunity to review Pearson Homeschool Phonics Level A, I was very excited. I checked out their website and felt their approach to phonics might be just what my girl needed to spark her interest in reading.
I was sent the Phonics Level A Teacher Resource Guide and Consumable Student Workbook. The units help teach phonics by teaching phonemic awareness first, followed my connecting that sound to the letter symbol. There are blending lessons that show how the sounds become words, spelling activities and many "words in context" activities. They provide pretests and posttest assessments to help you monitor your child's progress.
Why I Love Pearson Homeschool Phonics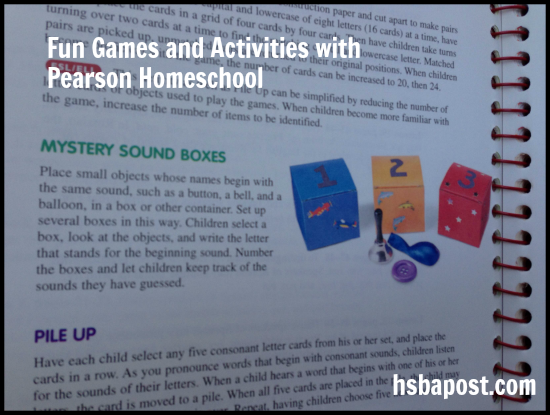 Grab and Go – With multiple children being homeschooled in our house, I appreciated that this curriculum did not require much prep work. I was able to sit down in the morning and read over the teacher pages quickly, jumping right into the lesson.
Options for Reinforcement - They have a section titled "Focus on All Learners" that gives many options for reviewing the lesson based on the type of learning style your child needs. There are even activities for children who want a little extra challenge.
Themes and Ideas - Each Unit has a theme and in the first pages of the teacher's book, Pearson shares ideas for incorporating the unit theme throughout your homeschool: science, writing, art, reading.
Games for Additional Learning - In the beginning of Unit One, they dedicate two pages to a variety of games and activities that can be used to reinforce the lessons. Pile Up, Quick Draw, Wonder Wheel and more! They are great for creating in advance and keeping in an activity bin. My older girls can "play" along with their little sister while I chase down their brother. Isn't homeschooling with little ones fun?!
Colorful - Maybe it's the kid in me, but I love that it's full color, bright and easy to read.
**********
Pearson is offering 25% off until September 15, 2014, with code BLG25! Check out Phonics for Grades
Kindergarten ~First ~Second ~Third ~Fourth ~Fifth ~Sixth
*********
What Didn't Make Sense
As much as I am enjoying this curriculum, there are a few things that just don't make sense. Pearson is a curriculum provider for public schools, but created this curriculum specifically for homeschoolers. However, throughout the book there are references to "Home Connections" that encourage kids to take things home (letters, activities, etc.) to show their parents. There are also sections with bulletin board ideas and classroom activities. These aren't a distraction for me, I just skim past them, but they did make me scratch my head a bit.
Why My Daughter Loves Her Pearson "Piggy Book"
The books have pictures of perfectly adorable plaid pigs on them. She calls it her Piggy Book, and loves it when she gets to work in it. Here are some of the reasons she likes her Piggy Book:
The pages tear out. This little girl hates trying to write in the creases of a workbook, and since her daily work pages tear out easily, she can lay them flat on the table to write. Side note: I love that each lesson in on one page, front and back, so I don't have to save yesterday's work for tomorrow. Workbooks that end a lesson on the front of a page and start a new one on the back make me bonkers.
The lessons are short. The attention span of a six year old fluctuates. These lessons are short enough that she can easily remain focused. If she wants to do more, we can add on the activities.
The stories/poems are funny. Nothing makes a girl happier than a funny poem about toy tigers drinking tea. The alliterations keep her smiling and motivate her to try to repeat them. Very entertaining way to sneak in some phonics practice!
I've had a couple of flops in the past with regard to picking curriculum. This year was no exception. I'm grateful that Pearson Homeschool has created something that is working for my little lady. If you'd like to find out more about Pearson, check them out on Twitter, Facebook, Pinterest, and Google+.
Pearson offers several other homeschool resources! Get 25% off with code BLG25 on
enVisionMath Bundle Grades K­6
myWorld Social Studies Bundle Grades K­6
MCP Plaid Phonics Bundle Grades K­6
Interactive Science Bundle Grades K­5
Valid through Sept. 15, 2014.
I received this product for free. I am being compensated for my time to use the product and write this review. All opinions are my own and I was not required to provide a positive review.~Lisa
***ART PROJECTS curriculum –ages 10+ -fulfills high school fine arts credit 10% off + FREE SHIPPING in U.S. Code: STL Offer expires September 30th http://www.seethelightshine.com***