We love reading in our family so any opportunity to get a new book is a good thing. We just had the chance to read and review one of the books in The Bible Belles series by Erin Weidemann. We received book one, The Adventures of Rooney Cruz: Hannah the Belle of Prayer.
Our Review of Bible Belles: Hannah
The Adventures of Rooney Cruz: Hannah the Belle of Prayer is book one in The Bible Belles series. It's about a little girl named Rooney and her Angel, Mari. Mari appears one day to teach Rooney about all the "superheroes" of the Bible. When Rooney's day goes from bad to worse, including being picked on by bullies at school, Mari explains that Rooney can be a superhero by learning the power of prayer as Hannah did in the Bible (Samuel 1). 
This Bible verse is included in the book:
I will give you hidden treasures, riches stored in secret places, so that you may know that I am the LORD,the God of Israel, who calls you by name. – Isaiah 45:3
The story is sweet and simple while conveying Biblical truth.
With three daughters, I'm glad to see a series featuring girls of faith and women from the Bible. They are great role models!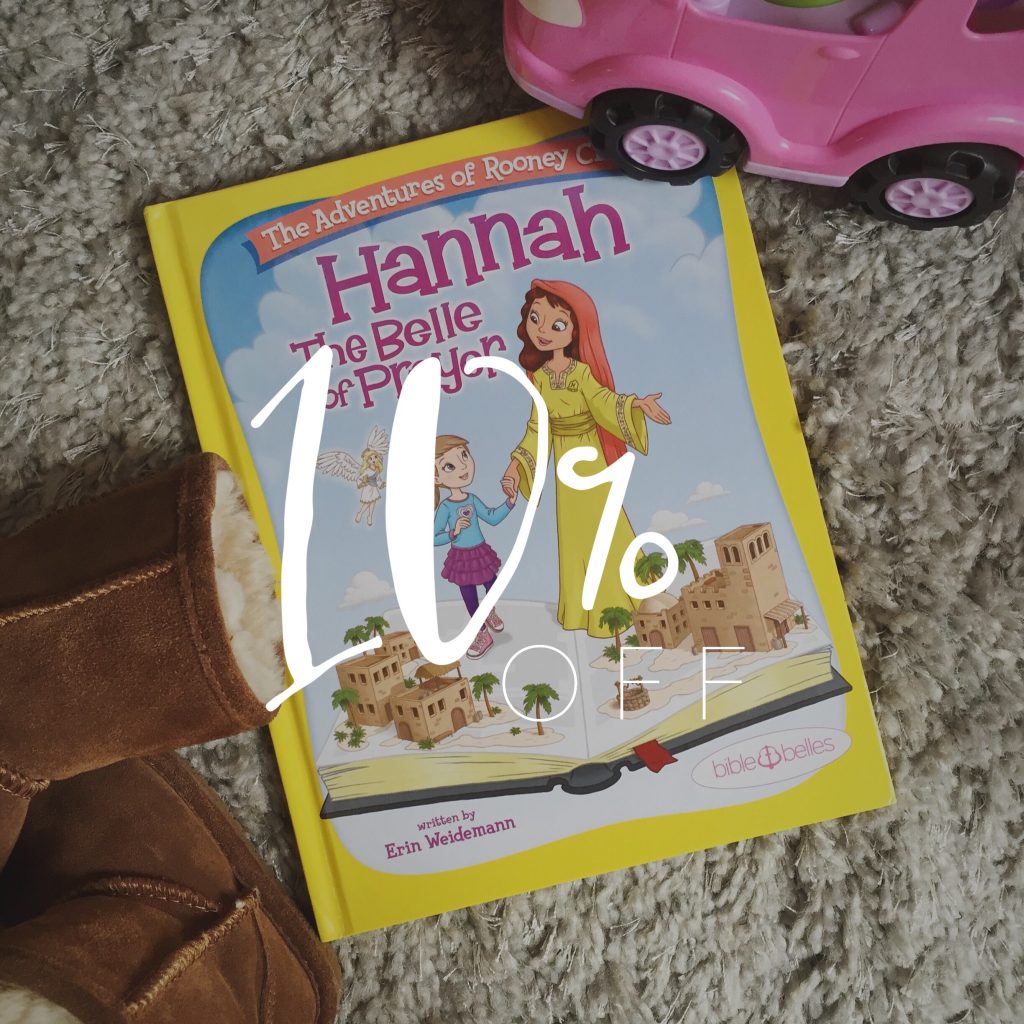 Use code THP to save 10%!
You can find fun freebies like coloring pages and memory verse printables to go along with the Bible Belles series on their website.
The story behind the Bible Belles series is an important part of the mission. Erin Weidemann is a 5-time cancer survivor who wrote the books as a gift to her niece. She wants to share the stories of these Biblical women to inpire and encourage girls. She also hosts the podcast Heroes for Her. I highly recommend checking it out!
Learn more about Bible Belles
The Bible Belles books are available in full-color illustrated hardcover with glossy pages or as an e-book in both English and Spanish versions.
You can learn more on their website or visit them on Twitter, Pinterest, YouTube, and Instagram.
Don't forget to enter code THP to save 10% on your purchase at Bible Belles!