L is for LATE!

We've been checking out your October and November photos and wanted to show you a few of our favorites:
The prize this month is from
Roosevelvet
Paper Goods & Big Hugs
We're buying our winner a set of these gorgeous hand made prints. We love supporting hand-made eco-friendly shops… and we love photography and all things CAMERA. I bet you do, too, if you are participating in the photo meme with us! E is for Etsy and EXCELLENT products.
Lookey here:

**AND THE WINNER IS:**
M is for milk.
Contact us to claim your prize thehomeschoolpost at gmail dot com!
Such a fun photo!

***
Remember to get your pictures in by the third week of December if you want to be in next month's drawing. EVERY photo that participates each month has a chance at the prize. We just count up the number of photos that are entered on the flickr group each month and pick a number (that means you can enter once a week each month – up to 5 pictures total, depending on what day we do the post).
Are you already one of our A B See Photomeme participants? It's ever so easy. Grab the button and save it to your graphics hosting site and use it on your blog sidebar or in the post that contains your entry photo. YOU take a phonic picture once a week and upload it to the flickr group (and blog about it if you have a blog) … and WE give a prize out to a random participant each month. Easy as A B …See!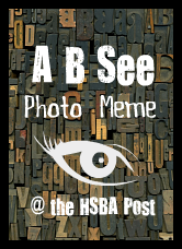 Want to join us? You don't have to be a photographer. You only have to take a picture representing any letter of the alphabet, post it on the Flickr group or tag it on Pixosphere. Turn this into a homeschool assignment for your older kids or do it with them! If you have a blog, please use our graphic that links back to this post. All ages are welcome and encouraged to participate!
I'm on letter Y next, and looking forward to starting OVER again. Jump in wherever you are today…
A is for Apologia, B is for Bright Ideas Press, C is for Charlotte Mason, D is for Dictionary…
Ready, aim, SHOOT!

P.S. We made this collage using Shape Collage Online. To view the animated version and click on individual photos, click on this link: http://www.shapecollage.com/online/w0h95wbl