We are delighted to see you continuing your alpha-themed photo fun with the A B See Photomeme. I always enjoy pulling up the Flickr group to see what has been added. Here's a little slideshow that showcases the group. The first portion are the most recent. We wanted to showcase them here.
I think I'll do another round after I figure out what to enter for Y and Z… and this time I'll write on the pictures like one of our participants has done. How fun! Maybe I can turn it in to an A B C Book for the toddler and baby!
Do you want your photos showcased here? Join the fun! Copy the below button on your sidebar and commit to adding a photo every week, or even once a month… take as long or short as you want to go through the alphabet. Go forwards or backwards – or even skip around. We don't mind.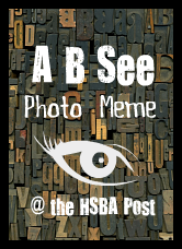 Want to see our best photos from 2011? Last month we posted a pretty collage. We aren't offering a prize for the meme any longer because of the sparse entries, but we just might surprise you and offer one at the end of the year for our favorite photos. We love pretty collages and you guys are amazing photographers!
Ready, aim… Keep Shooting!