Hi. I'm Heather. Just in case you didn't know this: for the past six years I have been the "silent force" in the background here at the Homeschool Post. I have also been the PR and project manager behind the annual Homeschool Blog Awards each fall.
Since early 2007 this site has been cranking out homeschool content to encourage, inform, and connect the community online. Back before there were very many other homeschool community blogs, we pioneered the dusty digital trail. I hope that you are being encouraged, informed and connected to your online homeschool community here today – and that this blog will continue to be true to the mission I've had for it all these years… even as I step down as your fearless leader.
It has been a huge blessing to me in my life to be part of the Homeschool Post. I have met and formed friendships with so many awesome homeschool bloggers and been introduced to so many great homeschool vendors while recruiting prizes for the awards each year. It has blessed my socks off personally to be part of something that edifies other homeschoolers who read our content and win our contests… and to be a part of something that has helped to build the skills and showcase the talents of so many amazing women online over the years.
But… to everything there is a time and a season. My season of being in charge of a 20+ author community blog is coming to an end. God has been calling me for some time now to give up the reins.
I mentioned on my blog earlier this year that my word for 2013 is CHANGE. This is one of those big changes I'm embracing as I look to see what God is going to do with my future and my family. I'm allowing God to close and open doors for me. It is both frightening (it's never easy to let go of something familiar) and exciting (new things and new routines are always a thrill).
Just in case you are asking, "So you aren't going to write at the Post any more???!"
The answer would be – YES! I am! I'm just not going to be in charge any more.
I'm planning to write at least one post each month here… and at least for the rest of 2013, I'm still "partners in crime" with my friend Lisa Baldwin, who is also an author here at the Homeschool Post. She's the new BOSS-LADY and is doing a super job since early January in keeping things running smoothly (and is even re-designing the site – shhhh).
It's funny, but @LifeVerse tweeted TODAY that:
If God leads you to stop something, He is preparing for you to do something else. ~ Charles Stanley
And although I may not know what that "something else" is yet, I do know that I am in one of those whirlwind seasons of life right now (hello, two teens and two toddlers?) and my kids need more of me than they would get if I didn't let go of a few things and simplify a lot more. Even if that is the only reason God spoke to my heart about letting go, that's a good enough reason for me.
I have loved being the 'behind the scenes' worker bee at the Homeschool Post. I hope you will continue to visit here and watch the next season unfold. I see great things in store for it under Lisa's leadership. She's got some super ideas and the "spunk, guts and moxy" to see them through. I'm enjoying working with her this year and will continue to be a monthly contributor through 2013.
However, if you have a PROBLEM – SEE LISA. Because from now on, "I just work here." Awww, just kidding. I'd gladly still help out.
May 2013 and this new leadership venture at the Homeschool Post be a blessing to the homeschool community and blogosphere at large — and please join me in welcoming Lisa Baldwin to this tireless and often thankless job.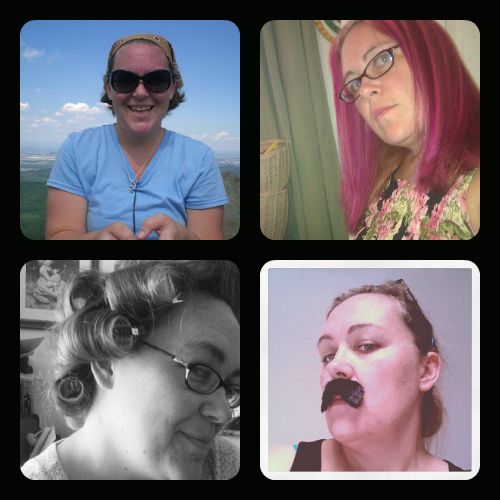 She'll be a wonderful El Presidente del Homeschool Post. She's got mad design skills, a working knowlege of WordPress, and isn't afraid to go out in public with pink hair. Oh, and she has a sense of humor – which she will need. I voted for her. It's hard not to like someone who hugs cows and sings karaoke sober.
You are going to love her. Maybe not that big blue parrot that sits on her shoulder every now and then, but certainly – HER.
So goodbye, Sprittibee – sortof, and HELLO Presidente Lisa!
And of course… as always, let us know how we can continue bless you! The suggestion box is always open (and unlike the White House, we listen)! Just click the contact tab up top!