Our kids love to see the UPS man. It usually means Momma has been snooping around on Amazon again and ordered something fun.
This week, I ordered some new cups (non-sippy ones that won't drip) and a special surprise for our school room.
Battleship
The original one. The one that didn't talk for you.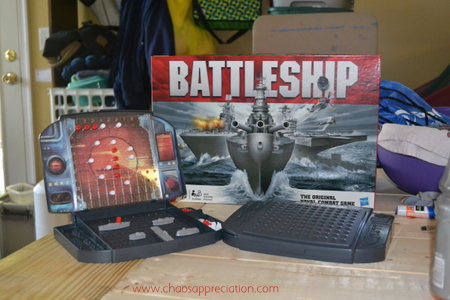 At first, Taderbug was worried it was a war game with scary graphics and such. She was surprised to see it was little plastic ships and little plastic pegs. No blood, no zombies.
Doodlebug was the first to ask where the batteries went. I could hear the Mr. chuckle from across the yard. It seems all the old games have gone the way of "batteries required," since almost everything now makes noise of some kind. Our game of Clue is electronic now – a highly disappointing change since it altered the rules of play. Monopoly now comes with electronic banking – so much for teaching math. A quick search of games showed me most of our favorite old-school options in a Kindle format!
How can you have family game night huddled over a Kindle?
We cleared off the end of our newly built – still unfinished – kitchen table. The Mr. and I showed them how to set up the boards and place their ships. We gave them instructions on reading the grids and marking their hits.
Fifteen minutes later, I heard the Mr. announce that he was playing the winner. I chimed in that I would play the winner after that, and an impromptu family game night began.
No beeps. No blips. No flashing lights.
Now, if we could only get Lil Man to stop stealing the ships we might actually have a winner.
Leave us a comment about your favorite old school game that you play with your kids. Do you have ways to incorporate it in your school plans? Be sure to share those ideas as well.
Visit our Homeschool Blog Awards 2012 sponsor…