The Doodle had her first dental appointment the other day. She turns three in a month, and so it was about time.
It never occurred to me what happened at a first dental appointment. It was less about teeth cleaning and more about learning, appreciation, and getting comfortable.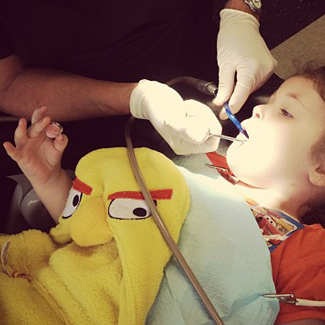 The Doodle watched me get my teeth cleaned, a great experience since flossing everyday this year. It got her curious and asking questions. When it was her turn, Mrs. Mann explained all the tools in a way she could clearly understand.
She asked lots of questions and got lots of answers.
She got her teeth tickled and flossed. She got to choose a toy to take home (a chalkboard, btw – that's my girl!). She got her first official toothbrush (although she's had many unofficial toothbrushes up until then). And now she brushes twice a day.
How were your children's first dental exams? Are any of your kids destined to be dentists because of it?
Share your thoughts in the comments and on twitter!