I've heard that some of you are having a bit of trouble with the polls. Yes, every year they give some of us problems. It seems that some people are having one or two categories telling them they have already voted when they haven't. Here are some suggestions on what you can do if this happens:
1. Wait and see if the next time you log on it corrects itself. Some have told us that it did eventually correct itself.
2. Go to a public place to finish voting (library, computer store, internet cafe, etc).
3. Use a different device (sometimes when the laptop doesn't work, the PC or the mobile smart phone will).
4. Go to a friend or family member's home and try it on their computer.
One of those options should provide you with a way to get your voice heard! And remember…voting ends FRIDAY night! Click the VOTE button on the top of the sidebar to go cast your votes now!
Visit our prize pages if you want to look at all the loot.
Here is a snippet of a few of the prizes in store for our winners …
Dayspring Cards

Dayspring is donating a $50 coupon code
This code can be used towards anything offered on their online store.
K5 Learning


K5 Learning is donating a K5 Learning 1-year subscription.
Win a one year subscription on K5 Learning's online reading and math enrichment program.  Subscription includes free reading and math assessments and unlimited access to all 4 K5 modules: K5 Reading, K5 Math, K5 Spelling, and K5 Math Facts for one student.  Over 3,000 interactive tutorials and activities.  Kids work independently and parents get reports.
Approximate value = $199
See The Light

See The Light is donating two (2) SEE THE LIGHT ART CLASS , Volume 1 & Volume 2.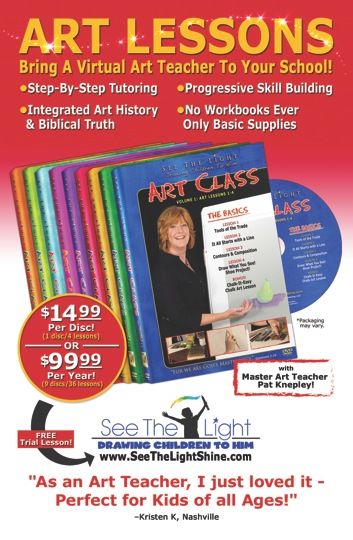 SEE THE LIGHT ART CLASS, VOLUME 1 : TOOLS OF THE TRADE – Learn the basics of what makes a drawing. Master artist Pat Knepley demonstrates what you need to have on hand in your drawing "toolkit" to always be ready to draw. BONUS! CHALK- IT-EASY Art lesson with STL chalk artist Gloria Kohlmann.
SEE THE LIGHT ART CLASS, VOLUME 2: IT ALL STARTS WITH A LINE – The most fundamental element of all drawing is the line – but not all lines are alike! Learn about different line qualities and the most essential skill of drawing – contour drawing. BONUS! CREATIVE LETTERING with Heidi Shorts.

Approximate value = $29.98
– – – – – – – – – – – – – – – – – – – – – – – – – – –
These prizes are about to be awarded. Have you picked your favorites from the voting pages yet? I hope you aren't procrastinating!

WE LOVE OUR SPONSORS (This is a list of our current 2011 prize awarders! Please visit them as a thank-you for their generous participation!)